China Home Mini Electric Portable Gantry Crane Brands Price
Electric Portable Gantry Crane
OLATCRANE

HENAN

10workdays

20set/month
1. The electric portable gantry crane traveling mechanism is electric by the motor. It is more effort than the manual traveling type gantry crane.

2. It is more flexible than rail type gantry crane, it can travel in any direction you want to work. There needn't to embedded rails in advance.

3. The electric ones will make the handling personnel save more strength.
Electric Portable Gantry Crane Price, China home gantry crane, mini portable gantry crane Brands
This electric portable gantry crane using electric chain hoist as a lifting mechanism, and its unsupported height can be adjusted freely, with adjustment scale to ensure the height of both sides is consistent.
The simple electric portable gantry crane lifting capacity is small, and the lifting capacity range is from 500 kg to 3000 kg. Due to its compact size, lightweight and wide application range, it can meet the needs of many different occasions.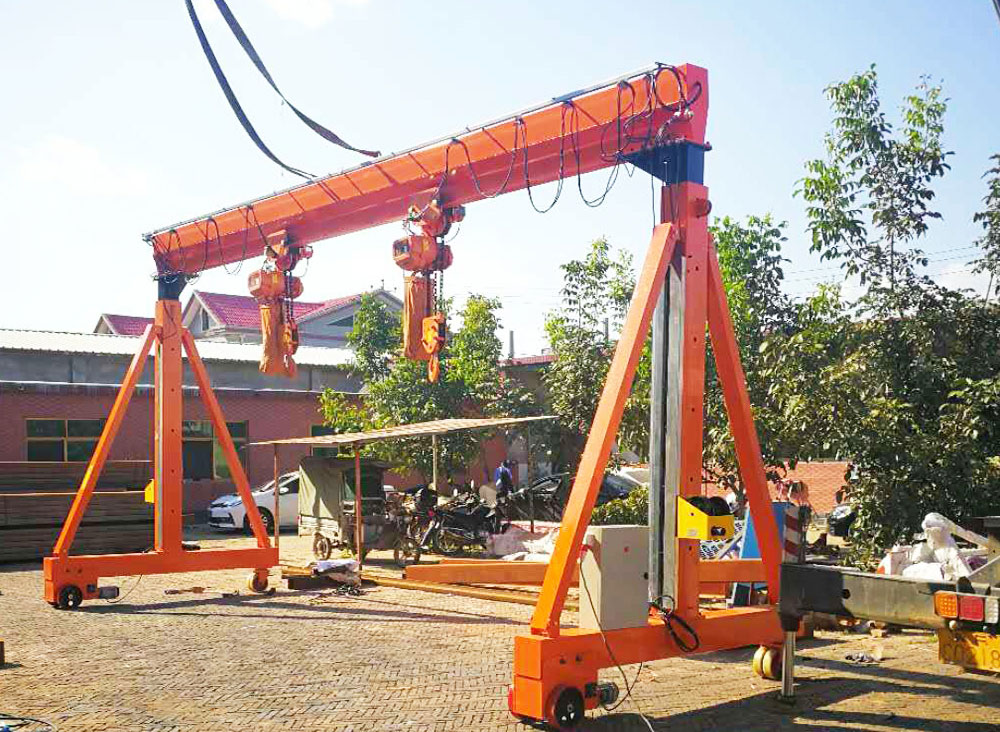 The electric portable gantry crane main features:
1. The raw materials for the main girder used I beam and the support legs and ground beam used square tubes, it has small package volume, convenient disassembly, and transport.

2. For lifting mechanism, usually, it is equipped with electric chain hoist, it is also light-duty but high performance. According to the customer's different requirement, the electric chain hoist can choose the most suitable model. Such as for both lifting and traveling is electric, or just for lifting speed is electric, the traveling is by manual, if this solution, we will also be equipped with small travel trolley so it can be travel on the main girder.
3. Selecting an electric trolley assembly can realize trackless weight-bearing and greatly improve work efficiency, steerable.
4. We accept customized size and rated load. Portable mobile adjustable single girder gantry crane for lifting heavy things can make you save more strength to lift heavy things.
5. For the voltage uaually, we make is 380v 50hz 3phase, if you need others, like 220v, 400v 415v, 60hz and so on. Please let us know, we will customize it.