Buy Cheap European Double Girder Gantry overhead Crane Company
European Double Girder Gantry Crane
OLATCRANE

HENAN

30workdays

10set/month
1. The European double girder gantry crane design is of advanced technology, whose design is based on international standard: FEM ( Europe ), DIN ( Germany ), ISO ( International ), equipped with many advantages such as: strong rigidity, light dead weight, low power, outstanding structure design, etc.

2. The configurations are very advanced, such as Schneider electrical, ABM/Nord / SEW triple gear motor ( three in one: motor, gearbox, brake ), galvanized high strength wire rope, self-adjusted disk brake, hard tooth reducer, programmable lifting limit switch, and so on.
Buy double girder gantry crane, gantry crane Company, Cheap european crane, european double girder overhead crane
Introduction:
This is building materials field using double girder rail mounted gantry crane with winch trolley hoist or Europe styles double girder wire rope electric hoist. At the same time, we can also customize the gantry crane according to your specific requirements, including lifting weight, overall size design, etc.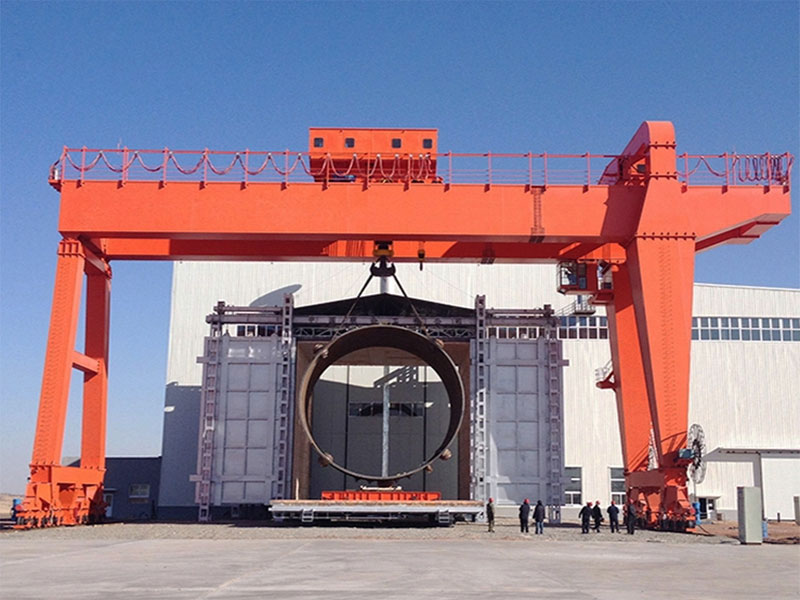 Advantages of European gantry crane:
1. The overall height of the FEM/DIN double girder gantry crane can be 20%~25% lower than that of traditional crane with weight reduced by 20%~30%.

2. The maximum wheel pressure can deduct by 15% ~ 20%.
3. The small size of this crane can increase the working area.
4. With the lightness structure, it can cut the construction costs.
5. Each spare parts on the crane are design to series standard modulus, which makes easy for the product combination.
Unique features:
(1) High reliability, safety, free maintenance rate.

a. Work duty: FEM2M, M5
b. Protection class: IP55
c. Insulation class: F
d. Continuing rate: 60% ( for the high-class motor )
e. Cooling rate: 30% than normal crane
f. Over-temperature protection: 170℃
2) Compact design, small size, low dead weight, low headroom.
3) Low noise.
4) Investment-saved---the workshop's civil work cost, due to crane's light dead weight and low wheel pressure.
5) Power-saved. The total motor power is much lower than normal design.
More details:

1. Main girder uses bias-rail box type structure, with optimized design and light dead weight.


2. Steel material. Q235B, or, Q345B.
3. The cover and web plate should get surface rust removal by roller-way conveyor blasting machine before welding; this blasting machine can perform blanking, sandblasting, painting and drying, after that, they get to Sa2 level.
4. The welding work of the main girder should be performed on the work platform (welding assembly unit). In order to avoid distortion of the main beam, we adopt U-shaped welding assembly unit to assure that vertical deflection degree between the top cover plate and the joint edge of the stiffened plate and web plate is no more than H/200, and also effectively reduce the partial wave of web plate.

1. The safety supervises system is equipped with overload limiter, and on the monitor, it can display the loads' value and remind the operator to prevent the overload happening.

2. Adopts imported with the original packaging from Germany, The brake force shall no less than 2160N/mm2, and its safety factor shall no less than 5.

3. The main electric elements adopt the international brands include Schneider, Siemens, ABB. The protective grade of the electric control box is no less than IP 54.

4. The wheels are forged by 65Mn alloy steel with the performance of abrasive resistance, and fatigue, and long service life. According to the needs of the customer, it also can adopt domestic configuration.

5. Germany imported reducer, harden face gear, improve the bearing ability, better sealing of the shell, ensure there no grease penetration.
Contact us for more detailed parameters and moderated quotation.