Buy China European Single Girder Gantry overhead Crane Brands
European Single Girder Gantry Crane
OLATCRANE

HENAN

20 workdays

20 set/month
1. European type gantry crane is different from a traditional gantry crane. It adopts to some new technology in keypoint like drive unit, trolley structure, power feeding system and operation control system, European type single gantry crane has better function features and high performance.

2. Also, compare with more precise motions, European type gantry crane is suitable for handling of valuable cargos. Users operation experience will be very good with this product.
gantry crane Brands, China european crane, Buy single girder gantry crane, european single girder overhead crane
Application:
Gantry crane is a kind of deformation from a bridge crane. It is mainly used in outdoor for the handling of material yard cargo, bulk cargo. Also when it comes to generator manufacturing, rotor for power station and other valuable cargos, the European gantry crane is a better choice considering all conditions.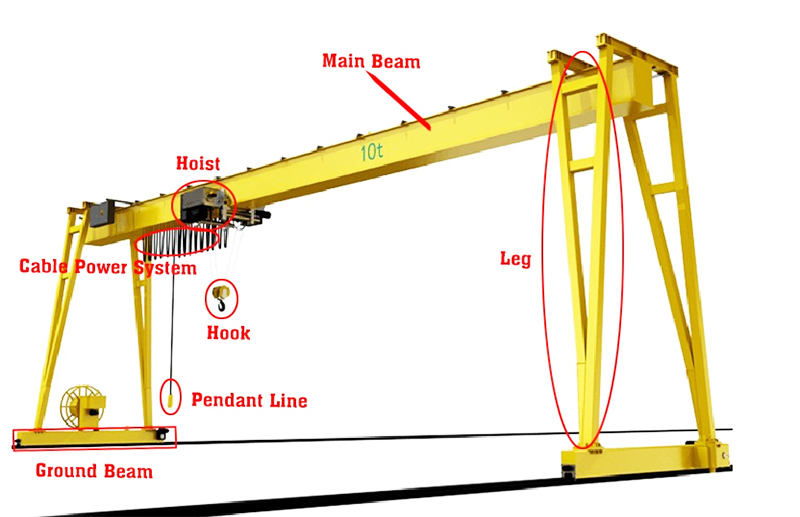 European single girder gantry crane features and advantages:
1. Low installation clearance–modularize design, compact structure.
2. Smooth operation–VVVF driving unit, stepless speed control.
3. Safety–traveling limiter, overload limiter, quick response brake, electric protection.
4. Ambient unharmful–low noise, light dead weight.
More details:
1. The steel structure for the main girder is box type. For the support leg, it can be box type or soft-support leg by different working duty and capacity.

2. The support leg, main girder, and ground beam connect by high strength bolts.

3. There will be a three-in-one traveling motor on the ground beam, the motor brand can be SEW, Siemens, or other brand.

4. There will a rail clamping device on the ground, to avoid there is any moving when there is wind If the gantry crane is used for outdoor.

5. The buffer on the ground beam end, to avoid there is any urgent impact.




1. The European gantry crane's lifting mechanism is European electric hoist.

2. The lifting motor and traveling motor of the electric hoist also is Three-in-one type, the brand usually is ABB, ABM, SEW, or Siemens.

3. The standard lifting speed is 0.8/5m/min. Fast and slow speed, for the traveling speed, is 2~20m/min, there is an inverter speed, you can adjustable by your working condition.

4. The steel wire rope with high strength and high flexibility, to achieve greater and safer lifting.

5. High strength alloy wheel group, to achieve a long service life for the wheels.
Technical features:
1. Trolley assembly: Closed structure–motor + brake + reducer box three-in-one integrated design.
2. Transmission: Direct input/output mode without coupling, high transmission efficiency, high assembly precision and maintenance-free.
3. Working duty FEM2m/FEM3m, the protection level is IP54, and Class F insulation.
The European type gantry crane is very hot sale, if you are interested in it, please inquiry to us, we will offer a most suitable solution for you.