China Supply European Single Girder Overhead Crane Brands
European Single Girder Overhead Crane
OLATCRANE

HENAN

20 workdays

20set/month
1. Weight lighten of 15~50%, saving workshop manufacturing costs.
2. Light weight crane greatly reduced wheel pressure, can reduce the crane on the whole plant structure requirements, so in the beginning of the design can reduce the budget, for the long-term and the larger the size of the workshop, the more obvious cost savings.
3. More good looking and performance, configuration are equipped with new type or European type, like SEW, ABM, Siemens.
4. Using frequency conversion technology, the crane runs smoothly, minimizing the sway of the load, making the loading positioning faster and more accurate. It also reduces friction and mechanical stress between the crane and the plant structure.
european crane Brands, Supply single girder overhead crane, China overhead crane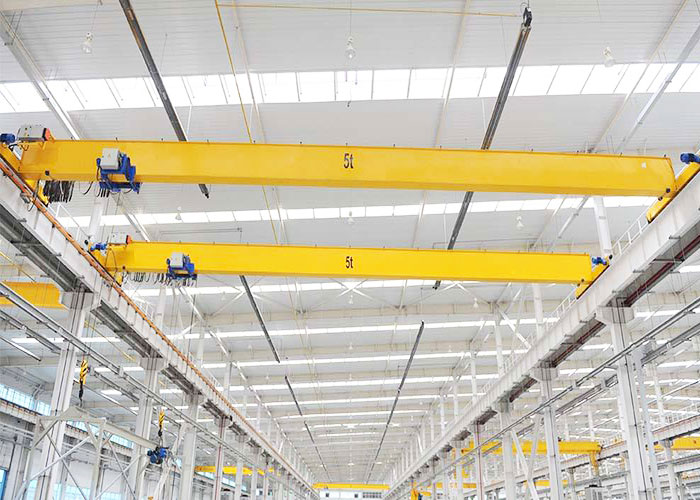 The European type single girder overhead crane widely used in machinery manufacture, metallurgy, petroleum, petrifaction, port, railway, food, paper making, construction, electronics industries workshop, warehouse and other material handling situations, esp. applied to material handling that needs precise positioning, large components precise assembly situation.
Advantages and features of European type overhead crane

1. Particular compact main beam structure, computer-optimized design box type girder, strong rigidity, light dead weight, which could effectively save your factory space and investment cost.
2. Low headroom trolley hoist.
3. Unique wheel frame design, stable structure.
4. Protection class is IP54, F class insulation.
5. Specially designed gearbox for crane, adopts oblique gears, self-lubrication.
6. Various traveling speed
7. Variety of patterns meet customers needs, Sub-assembly characteristic is tested before assembly.
Technical Data
| | |
| --- | --- |
| Capacity | 10t |
| Span | 16.5m |
| Lifting height | 9m |
| Working-class | A5/FEM 2M |
| Lifting speed | 0.8/5m/min |
| Total power | 12.8kw |
| Max wheel load | 60.83kn |
| Recommend rail | P38 |
| Crane weight | 5307kg |
| Trolley weight | 640kg |
Product details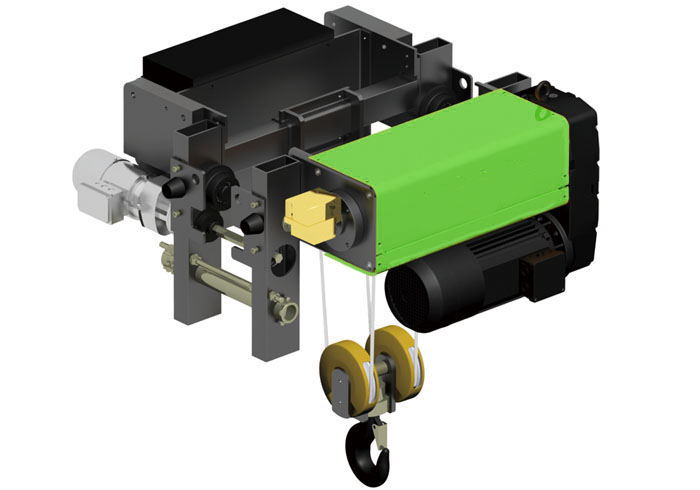 European electric hoist
1. Adopt Germany's imported lifting motor and reducer. The integrated compact design of the hoisting motor, reducer, reel and hoist limit switch saves user space. The modular design enhances the reliability of the organization while reducing maintenance time and costs.
2. With faster and more hoisting speeds and a variety of pulley ratios to choose from. The standard trolley running mechanism is controlled by frequency converter, and the speed reaches 20 m/min, which makes the lifting objects with small swing and accurate positioning when the trolley is walking, and can safely and reliably lift precision valuables.
3. The hoisting mechanism is designed to strictly enforce the relevant standards of FEM.
4. Aluminum alloy reducer housing Smooth operation, low noise Lifetime lubrication (safe use cycle) Two-disc electric disk brake
European end truck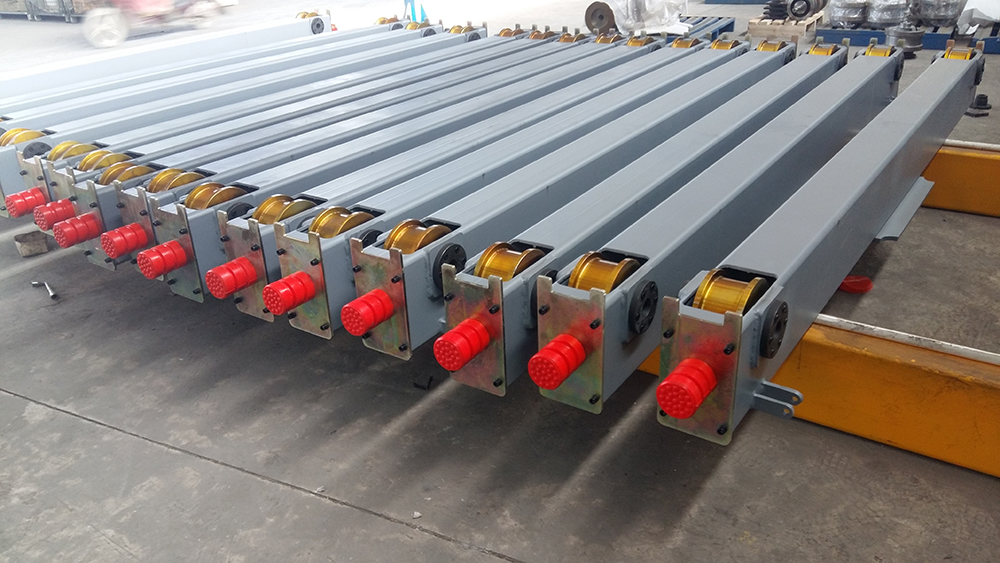 Crane and trolley traveling three-in-one motors
1. Squirrel cage type frequency conversion motor
2. Protection grade IP55, battery life 60%ED
3. Smooth operation, start-up, reduce the weight shaking when frequency conversion
4. Hard tooth surface, silent design
5. Disc brake