Buy Discount Single Girder light Gantry Crane nz Brands Price
Single Girder Gantry Crane
OLATCRANE

HENAN

30workdays

10set/month
1. The Single-girder Gantry Crane forms a complete set with wire rope electric hoist. For the lifting speed and traveling can be single or double speed.

2. The Single girder gantry crane is traveling on the floor, it needs to embedded rails, it can be used in outside or inside.

3. Lifting capacity is 2-20t(Gn), and the span is 10.5-31.5m, the working system is 25% and ambient temperature no more than 40°C.
Buy single girder gantry crane, Discount gantry crane, gantry crane nz Price, light gantry crane Brands
Brief instruction:
The single girder gantry crane is similar to a bridge crane, but instead of moving on suspended runways, the crane uses legs to support the bridge and the electric hoist. The crane legs travel on fixed rails embedded in the floor or laid on top of the floor.
The single girder gantry crane is consists of main girder, ground beam, support leg, and lifting mechanism with wire rope electric hoist. For the main girder, according to customer's specific working condition, it can choose with two cantilevers, one cantilever, or no cantilever. The cantilever can increase the electric hoist's traveling length on the main girder.
The single girder gantry crane usually equipped with wire rope electric hoist, also there can be equipped with chain hoist or European hoist by customer's requirement.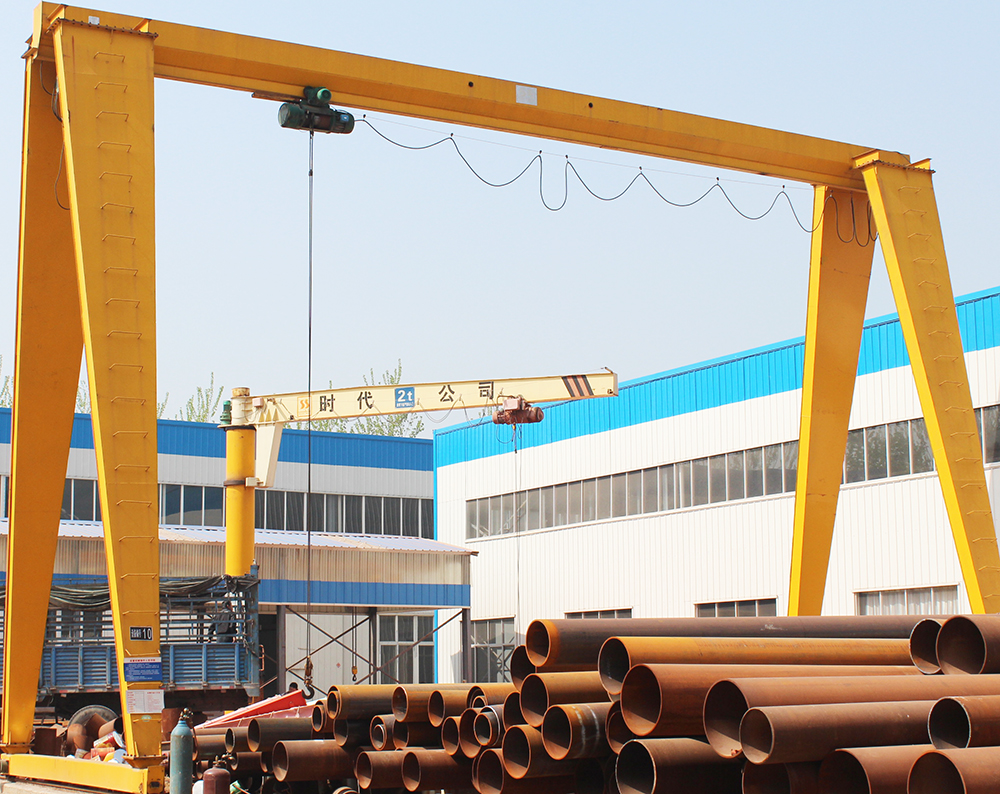 Features:
1. Simple and compact structure, steady performance.
2. Easy to install and high efficiency.
3. Overload, low voltage protective device.
4. Pendent control and remote control.
5. Easy maintenance.
More details:
| | | |
| --- | --- | --- |
| Main girder | Support leg | Ground beam |
| Electric control | Electric hoist hook | Remote control |
Gantry crane protection devices:
1. Preventing hook clashing the top, set shields and barriers
2. Circuit self-test protection device, Running the travel limit
3. Protecting the current lacking of any phase.
4. Outdoor cranes are equipped with a lifting mechanism, electrical control box and rainproof devices.
5. Anti-collision, sound, and light alarm devices.
6. Equipped with rail clamp.
7. Lifting weight limitation, height limitation, rail clamping device
8. Speeding protection, zero pressure protection, lightning protection